---

Accounting & Consulting
---
---
[Accounting] | [Tax & Planning | [Consulting] | [KCB-Link Communications]
---
ACCOUNTING SERVICES
Bachman CPA, in addition to providing complete accounting services, respectfully upholds its responsibility as the skilled planner and thinker your growing business requires in a CPA.
Financial statements and compilations.
Accounting system & internal controls design and implementation.
Payroll reporting and management.
Financial reporting and control systems.
Company valuation and sale/purchase negotiations.

Setup, support, implementation and training in a variety of packages, including Quicken, Quick Books, Quick Pay, Lotus, REMS, MYOB, Peachtree and DacEasy, and others.

Company valuation and sale/purchase negotiations.


[GOTO TOP] | [Fill-out Form]

---

TAX & FINANCIAL PLANNING
Bachman CPA, through its extensive experience and education in tax and financial planning, will minimize your tax burden and maximize the value of your money.
By monitoring the Court's interpretations of pending cases and scrutinizing all new tax laws, Bachman CPA is constantly positioning your company properly from year-to-year and month-to-month.
By seeing beyond the numbers, Bachman CPA will position your capital for maximum benefit in the financial marketplace.
Individual & business tax preparation & planning
Estate planning.
IRS audit support & representation.
Long-range tax planning.
Transaction structure.
Financial, educational, and retirement planning.
Risk management / insurance analysis.
KCB-Link modem communications.


[GOTO TOP] | [Fill-out Form]

---
CONSULTING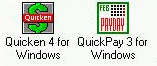 [Goto Business Management Consulting]
SOFTWARE CONSULTING
Bachman CPA, beyond the above services, offers special expertise in computer software training and implementation. As a result of this special knowledge, Bachman, through technical proficiency alone, increases the value of your CPA services at no extra charge.
From overseeing the design process in networks, to simple software package analysis, implementation, support and training, accounts are more efficient, and information is more accessible to you in a shorter amount of time.
Setup

Initial consultation
Recommendation
Hardware/software acquisition
Installation oversight (Network or Stand-alone)
Training
Support (on-site and via KCB-Link}

Packages

Quicken
Quick Books
Quick Pay
Lotus
REMS
MYOB
Peachtree
OneWrite Plus
DacEasy and more.


[GOTO TOP] | [Fill-out Form]

---
BUSINESS MANAGEMENT CONSULTING
Operating your business can be like walking a tightrope. Your odds for survival, if you should fall, depend entirely on the strength of your safety net. Bachman CPA management consulting provides that safety, by revealing, objectively, the big picture, and by identifying problems before they ever have an opportunity to knock you off the tightrope.
Services

Strategic and long-range planning.
Financial management & budgeting.
Controller assistance.
Financial executive searches, personnel screening & testing.
Medical management consulting.
Risk management / insurance analysis.


[GOTO TOP] | [Fill-out Form]

---
KCB-LINK, REMOTE SUPPORT COMMUNICATIONS
You know when you need your accountant. And, we can get there in a hurry; with KCB-Link, Bachman CPA's remote support communications via modem. If the answers you seek can be discovered within the information on your computer system, Karen can come in on-line, assess the situation, and provide a solution.
Advantages

Increased efficiency.
Fast answers.
Peace of mind.


[GOTO TOP] | [Fill-out Form]

---
Karen Cope Bachman | 813 964 0790 | Fax: 813 964 0390
PO Box 270571, Tampa, FL 33688-0571